Artists - Page 3
Welcome to the Artists page. On this and the other artists pages you will find brief bios and a sample artwork of the artists represented by Ignition Gallery. You can click on a number of the artwork pics and see a larger image. However, none of the images do justice to the vibrancy of the originals or limited edition prints. (Further artworks by the artists can be viewed on the Portfolio Slide Show page.)
Mike Kungl
After completing art and design school Mike Kungl applied his graphic design education to achieve a successful career in advertising. He spent nearly two decades creating award winning logos and illustration for major companies such as Panasonic and Nissan Motors. Kungl then focused on fine art full time. Within just two years the California artist was selected to create the official artwork for Miami Beach's 25th annual Art Deco Weekend. The Miami honor is just one of many in a succession of developments that highlight Kungl's growing reputation as a recognized collectible artist across the country and around the world. His work is featured regularly in magazine articles, how to books and television shows. Kungl currently works in his southern California studio shaping and refining each of his meticulously crafted images. A sample of his artwork can be seen below.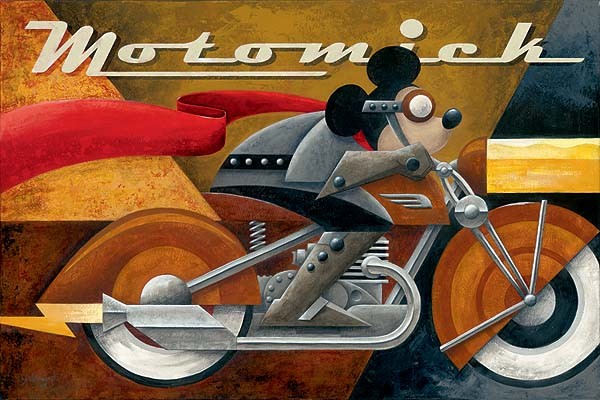 José Rodriguez
José Rodriguez is an award winning illustrator/artist specializing in custom portraits who is currently producing a distinctive series of automotive paintings. Working with acrylic paints and colored pencils, his pallet always consists of vivid colors and sharp contrasts working together to bring his subject's to life. Born and raised in Southern California, Jose's studio is situated in the Whittier home he has shared with his wife and son for the last 18 years. José attended East Los Angeles College where he majored in art and earned an Associate of Arts degree. He went on to pursue bachelors and masters degrees in illustration and design from California State University, Fullerton. A sample of his artwork can be seen below.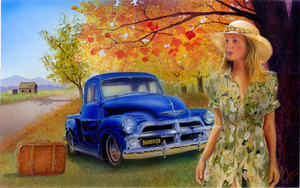 Mike Kungl
Don Roth
Southern California Artist Don Roth comes to the craft of painting with a vast range of abilities and experience. He incorporates the technical skills of a Draftsman and Illustrator in a subtle blend of precision and sensitivity, making his creations a wonder to behold. After excelling at Art in high school and college, Don served in the Navy as an Illustrator. He then worked for several years as a "one-man-Art Department" for a large city in Orange County. Ultimately, the artist ended up working for fifteen years as an Illustrator for Boeing and McDonnell Douglas Aircraft Companies in Long Beach, California. The "Kool-Kat" painting series, represents the culmination of Don's artistic experience and development. A true "cat-lover" all of his life, these whimsical, light-hearted and nostalgic paintings depict the fantasy of a simpler world where KATS are KOOL! Don Roth is a member of the American Society of Portrait Artists, and the American Society of Classical Realism. A sample of his artwork can be seen below.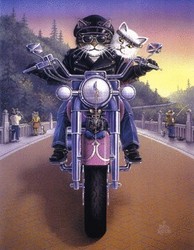 Josť Rodriguez
Scott Westmoreland
Scott Westmoreland received a degree in art from Cal State, Fullerton in 1991. He then spent the first decade of his career as a designer and illustrator in the entertainment industry. Scott served as an artist for original posters, programs, brochures and multi-use images for major theatrical productions nation-wide. He served as a comprehensive artist for the motion picture industry and it's advertisers, as well as a regular contractor for the Walt Disney Company and MCA Universal. In 1996, Scott was asked to become a full-time Staff artist at Disney, where he created numerous marketing, merchandising and collector edition pieces, as well as countless conceptual and developmental campaigns for Michael Eisner. Scott rejoined the freelance world in 2001 where he has concentrated his efforts in the fine art arena. His surf, woodie car, tropical and pinup girl series have made him a recognizable name on the national art scene. A sample of his artwork can be seen below.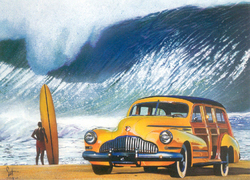 Don Roth
Beacham Owen
Born in Lynchburg, Virginia, artist Beacham Owen first learned the ins and outs of painting, printing, and publishing from his parents. His father, artist and journalist Frank Owen was city editor of the Washington Star in Washington, D.C.. His mother, Frances Owen, artist and department head at the prestigious St. Stephen's School, encouraged Beacham's artistic talent as a young man and offered him full use of her Florida studio. In the early 80's, he began professionally painting and illustrating high-action motorsports scenes. He began painting in oils and acrylics on canvas, and now creates art using an airbrush technique that includes pen and ink, brushed acrylics and digital enhancement. His work has been seen in AutoWeek, Cycle World, Motorcyclist, Racer, Road & Track, Roadracing World and Sport Rider magazines. He also appeared twice on Late-Night with David Letterman. Beacham and his wife of 21 years, German-born artist Birgit Friedrich Owen, now reside in Southern California. They travel to shows and racing events world-wide. He creates art from his Los Angeles art studio and printing facilities, where he and his staff produce Fine-Art Giclee prints of his works. A sample of his artwork can be seen below.
Beecham Owen
William S. Phillips.
"Whether watching the storms of life or contemplating the wonder of love on a warm summer evening, we are all storm watchers." --William S. Phillips. This image of a youthful couple watching the majesty of a retreating storm while a Beechcraft D-18 pilot views it a very different way, shows again why Phillips is one of the most sought-after artists by both nostalgia and aviation collectors alike.
Aviation was my first artistic love, says William S. Phillips. At college he majored in criminology, and he had been accepted into law school when four of his paintings were sold at an airport restaurant. That was all the incentive he needed to begin his work as a fine art painter. Bill Phillips is now the aviation artist of choice for many American heroes and the nostalgic landscape artist of choice for many collectors. Bill's strengths as a landscape painter are what gave him an edge in the aviation field: respect and reverence for a time and place. The Smithsonian Institution's National Air and Space Museum presented a one-man show of Phillips work in 1986; he is one of only a few artists to have been so honored.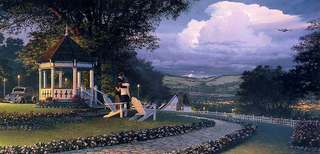 Scott Lang
Scott Lang lives in Shady Cove, Oregon. He works in watercolors. One of his favorite subjects are rusty abandoned cars in rural settings.
A sample of his artwork can be seen below.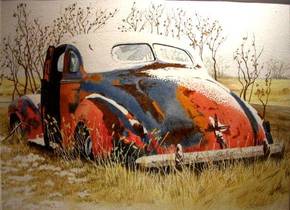 Roger Warrick
Roger Warrick is internationally known for his race car artwork. Roger states; "Growing up I was always a race fan and drew cars all the time, and I suppose I never outgrew that artistic interest in motorsports subjects. There are so many interesting challenges in putting a scene together that captures a specific moment in a race that I really enjoy. I like to work from my own photo reference of the cars and the tracks whenever possible for accuracy. Then I compose my own particular viewpoint for the scene, first through thumbnail sketches before refining them into the finished acrylic painting." A sample of his artwork can be seen below.