Sculptors
IGNITION Gallery is honored to exhibit bronze sculptures by Doug Downs. Ignition gallery also features Original Flea sculptures by father and son artists, Greg and Jeff Quayle, and "Open Road" a biker sculpture by Arich Harrison.
Doug Downs
"I was born and raised in a small town in Southern California my favorite thing to do as a little kid was to make clay and wax figures and have big battles with them. As I got older, I made caricatures of whatever interested cowboys, Indians, soldiers, animals, rock bands and motorcycles. My big brother Bill had a motorcycle and we used to drag race through the orange groves.
In 1967, after graduating from Whittier College, I traveled around the world filling sketchbooks with people and places I saw, and visiting art museums. Then I went to Claremont Graduate School where I learned some excellent design principles, but my sculpture professor ridiculed figure work and insisted we do abstract geometric sculpture. I dropped out and hung out with a friend in Berkeley, where I made ceramic caricatures which he took to an art gallery. The good news was that they sold, the bad news was that my friend kept the money. It was time to leave again. I moved to Tempe and was a graduate teaching assistant at Arizona State University, which didn't leave me enough time to sculpt. And my lectures put the students to sleep, so I dropped out again.
In order to learn the technical side of bronze casting, I moved to Santa Monica and worked at Dell Weston Art Bronze Casting. It was there that I acquired the knowledge of the casting process which has allowed me to challenge the limits of what I can create in bronze. Having developed a commitment to my craft, I continue to make my own molds, work the waxes and do the finishing work on the bronzes. Since 1971, I have been a full-time professional sculptor. I live with my wife Anne, a painter and musician, on the Monterey Peninsula. Our son Devon has moved back to Southern California where he rides his Harley. He urged me to get back to sculpting motorcycles, something I had wanted to do for a long time." (Doug Downs sculptures, Flying High, and Big Twin Lightning can be seen below.)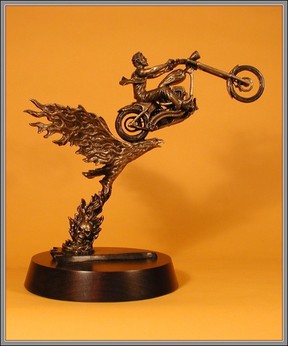 Greg and Jeff Quayle
Greg Quayle: "I began my sculpting career in 1968, at the age of thirteen. My parents, in their infinite wisdom, probably realized that young Greg was not destined for academics, or possibly the ability to hold a Normal Job. They saw in me, a spark of enthusiasm at a craft show, as I watched a torch-wielding sculptor joining together nuts, bolts and scraps of steel into whimsical flying machines. I was hooked. Even without much begging, my Christmas gift that year was an acetylene torch set and the rest is history. Humor became a focus very early in my sculptures, a smile or chuckle from a customer was good, outright laughter was the best.
The OriginalFLEA was first created in the fall of 1972. We honestly feel that these fun loving characters are the reason for our success over the last 3 decades. We poke a little fun at life in each FLEA scene that we create."

Jeff Quayle: "I became interested in torch work at an early age. I started helping my Dad weld FLEAS when I was 6 years old. In my early teens, I was sculpting in earnest. What started out to be an easy way to make a little pocket money, eventually evolved into a passion to be creative (like father like son). In 1997, I moved out of my parents' house and went away to college. I not only packed clothes, books and school supplies, but also my torch. I welded FLEAS in college and helped Dad keep his customers well supplied. After graduation, I moved back to the Sacramento area to start a career and life after college. After several years in the real world, I knew that I wanted to work for myself and utilize my creativity to bring smiles to peoples' faces. I wanted to create the OriginalFLEA metal sculptures again.
THE PROCESS: There is a little magic in the process of creating our FLEA sculptures. The magic is in experience. The tools are simple, an oxy-acetylene torch, tin snips, pliers, a hammer and a vice. Materials are basic too, light gauge cold rolled steel and mild steel welding rod. We snip, bend, heat, pound and weld until it looks right and makes us smile. We are the only ones that touch the OriginalFLEA sculptures. We do no subcontracting, nor do we use any mass production methods or processes. One of the benefits of the FLEA sculptures being handmade is that each one is unique." (Two of their sculptures can be seen below. Ignition Gallery carries several others.)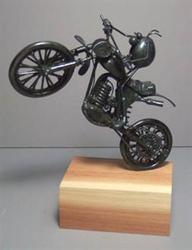 Big Twin Lightning
Doug Downs Awards - partial listing:
1984 -1st Prize for Sculpture, 10th Annual National Miniature Show, NM
1985 - Col. Archibald King Memorial Award for Best Sculpture, 52nd International Exhibition,
Washington, DC
1987 - Juror's Choice Award, 9th Annual International Show, Billings, MT
1989 - 1st Prize for Sculpture, 56th Annual International Exhibition of Miniature Painters & Sculptors, Washington, DC
1990 - 1st Prize for Sculpture, 57th Annual International Exhibition of Miniature Painters & Sculptors, Washington, DC
1993 - Best Artwork with a Western Theme, 15th Annual International Show, MT
1993 - 1st Prize for Sculpture, 19th Annual National Miniature Show, NM
1994 - 1st Prize for Sculpture, 61st Annual International Miniature Exhibition, Washington, DC
1995 - 1st Prize for Sculpture, 62nd Annual International Miniature Exhibition, Washington, DC
2001 - 1st Prize for Sculpture, 18th Annual N. American Miniature Show, Baltimore
2002 - Members' Choice Award, 19th Annual N. American Miniature Show, Baltimore
2004 - Juried participant: "Worldwide Exhibition of Fine Arts in Miniature," Smithsonian Institution, Washington, DC
Old Car
Arich Harrison
The 21st century biker roams the "Open Road," the American frontier, atop his steel horse, an emblem of that rugged individualism, that purely American zeal for life, liberty and the pursuit of happiness. He is a post-modern icon, a pioneer embarking on, not so much the new and untamed, but the almost-lost. He is the cowboy of the wild west, tough as steel and free to roam the open road with just a bit more horsepower. (Arich Harrison's sculpture Open Road can be seen below.)